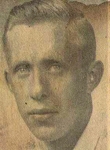 Click above for full-size
George St. Claire
of Fairhaven, Massachusetts
Born in Maine
Age: 24
George St.Clair was the son of Mrs. Cora (Young) St.Clair of 101 Main Street, Fairhaven. He had three brothers and four sisters. His father, Robert St.Clair, was lost at sea several years earlier, while aboard the Madeline Flora.
The dragger Four Sisters was returning to New Bedford with a hold full of scallops when she was lost in a sudden storm on April 7 or 8 east of Nantucket. All ten men on board were lost, and an extensive Coast Guard search failed to find any trace of the ship or the crew. Twelve children were left fatherless.
The William Landry was lost in the same storm.