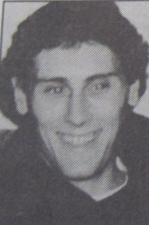 Click above for full-size
Michael W. Jarvis
of Fairhaven, Massachusetts
Born in New Bedford, Massachusetts
Position: Crew
Age: 29
Michael William Jarvis, 29, died unexpectedly at sea Friday, April 5, 1996. He was the husband of Tammy (Costa) Jarvis and son of William A. and Claudia (Plotczik) Jarvis of Fairhaven. Born in New Bedford, he was a lifelong resident of Fairhaven and a parishioner of St. Joseph Church in Fairhaven.
A graduate of Greater New Bedford Regional Vocational School, he was formerly employed by various scallopers in Fairhaven for 12 years, most recently the Liberty. Mr. Jarvis enjoyed spending time with his children and family.
Survivors include his widow; his parents; a son, Brett Jarvis of Fairhaven; two daughters, Jenna-Lyn Jarvis and Rebecca Jarvis, both of Fairhaven; a sister Lisa Jarvis of Fairhaven; three nephews and two nieces. Interment was at Riverside Cemetery.
Michael W. Jarvis suffered a heart attack on board the Liberty on April 5, 1996. The ship was 10 miles south of Block Island, en route to New Bedford. David Cabana, the ship's mate, administered cardiopulmonary resuscitation but could not revive him.