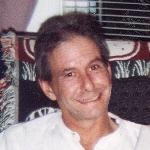 Click above for full-size
Glen Crowley
of New Bedford, Massachusetts
Born in New Bedford, Massachusetts
Position: Crew
Age: 45
Glen Crowley had trained as a union carpenter but loved the sea and had worked as a scalloper for 17 years and had been working on the Northern Edge since September. He was passionate about the Yankees and rock music. He had two daughters, both in their twenties and a son, Glen.
New Bedford - Glen E. Crowley, 45 of New Bedford was lost at sea when the fishing vessel he worked on, the Northern Edge, san off Nantucket on December 20, 2004.
Mr Crowley was born in New Bedford, son of the late John E. Crowley, Jr. and the late Barbara (Avery) Crowley, and resided in the greater New Bedford area all of his life. He was emplyed as a carpenter for several years and later became a commercial fisherman, working on varios local fishing vessels, the last being the Northern Edge. Mr. Crowley loved the sea and his many friends, but most of all loved spending time with his family.
Survivors include a daughter; Rewbecca LaCroix of New Bedford; a sister; LuAnn Sullivan and her husband Michael of New Bedford; a brother; Robert J. Crowley and his wife Aline of Acushnet; his close friend: Teresa Dineen of New Bedfordand her daughter Melissa Dinnetto of Boston; and serveral nieces & nephews.
He was brother of the late Donna M. Jackson.
At 4:44 p.m. on December 20, 2004, the Coast Guard received an emergency beacon signal from the fishing vessel Northern Edge, followed by a mayday call reporting that the boat had overturned and was sinking. A few minutes later, the Diane Marie, fishing nearby, radioed the Coast Guard to report the sinking. The Diane Marie later rescued Pedro Furtado, a Northern Edge crew member who had escaped to the life raft. Coast Guard helicopters searched the area but had mechanical problems because of the extreme cold. Several Falcon jets joined the search, along with the Coast Guard cutters Escanaba and Tybee. The search ended on December 22 without finding the other five crew members: Captain Carlos Lopes, Glen Crowley, Raymond Richards, Juan Flores, and Eric Guillen.