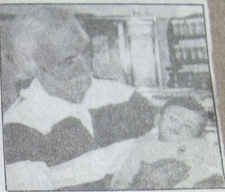 Click above for full-size
Bradford C. Clapp
of New Bedford, Massachusetts
Position: Crew
Age: 43
Mr. Clapp was survived by his wife, Ann, and three children.
Bradford C. Clapp was working on board the dragger Montreal on May 21, 1990. When a net doubled up on itself as another crew member was hauling it on board, Mr. Clapp went to help him. A wave hit the ship, and the rebound threw Mr. Clapp over the gunwale. A crew member reached down to try to pull him out of the water, and others threw life rings and flotation devices.
Within 45 minutes, eight fishing vessels surrounded the area. The Coast Guard conducted a 15-hour search with two ships and a helicopter, but they were unable to locate Mr. Clapp.