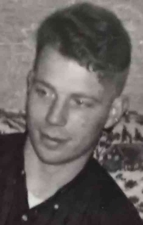 Click above for full-size
Jeffery E. Nielsen
of East Freetown, Massachusetts
Born in Evergreen Park, Illinois
Position: Crew
Age: 40
Private funeral services were held this morning for Jeffery E. Nielsen, 40, of Lakeville, who died unexpectedly Monday aboard the fishing vessel Commonwealth of New Bedford.
He was born in Evergreen Park, Illinois, and lived in the New Bedford area most of his life. He was employed by the dragger Commonwealth of New Bedford.
Survivors include his wife, Teresa Nielsen; parents, Niels B. and Lorraine (Springer) Nielsen of Lakeville; two brothers, Niels P. Nielsen of Freetown and Karl G. Nielsen of Fairbanks, Alaska; a sister, Penny Wrightington of Rochester; and two stepsons, Darryl Rivet and Scott Rivet of New Bedford.
Jeffery Nielsen died of an apparent heart attack while fishing 93 miles east of Nantucket. The crew members attempted to resuscitate him, guided by radio instructions from the Coast Guard, but they were unsuccessful. He was taken back to New Bedford by the dragger Commonwealth.