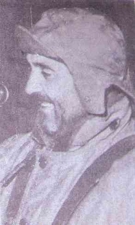 Click above for full-size
Capt. Joseph M. Cardoza
of Dartmouth, Massachusetts
Born in Soure, Portugal
Position: Captain
Age: 68
Mr. Cardoza was known as "Hurricane Joe," and had worked on scallopers, draggers, and his lobster boat for 38 years. He had come to New Bedford from Portugal in 1944 and bought his first boat, the Helen Marie, in the late 1940s. He later owned the Connie F., a 62-foot dragger. In 1972 his new dragger, Nautilus, collided with a barge in Buzzards Bay. The boat sank, but Mr. Cardoza and his crew survived.
Joseph Cardoza, 67, of Rockdale Avenue, Dartmouth, died at sea March 28, 1984. He was the husband of Eulalia (Lameiras) Cardoza and the son of the late Augusto and Maria Augusta (DeSa) Cardoza. His body was recovered Saturday in Dartmouth. He was born in Venda Nova, Portugal, and lived here most of his life. He was a commercial fisherman. Mr. Cardoza was a member of the Massachusetts Lobstermen's Association and the New Bedford Seafood Co-op. Survivors include his widow; a son, Bradley J. of Mattapoisett; a daughter, Aurora Brown of Fairhaven; a sister, Maria doCeu Marques of Portugal; three brothers, Joao Cardoza and Augusto Cardoso, both of Portugal, and Manuel DeSa of South Dartmouth; and three grandchildren.
The Dauntless was found empty a mile and a half east of Cuttyhunk on March 28, 1984. A five-hour Coast Guard search deploying three boats and a helicopter failed to find the owner, Joseph M. Cardozo. In July, his body washed ashore at Round Hill Beach in Dartmouth. He was still wearing his yellow rain overalls. Mr. Cardozo had survived sinkings in 1949 and 1972.