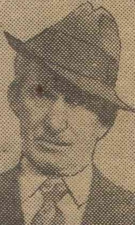 Click above for full-size
Albert W. Carpenter
of New Bedford, MA
Born in New Bedford, MA
Position: Crew
Age: 58
Albert was a native of New Bedford and had spent the majority of his years fishing. He had made but three trips on the Sankaty Head, having worked on other craft, last on the Isabelle Q,
Besides his widow, Mary J. Carpenter he leaves four children, Mrs. Alberta Crooks, and the Misses Mary J., Ellen T., and Catherine R. Carpenter, all of New Bedford; two granchildren, Patricia and Charlotte Crooks, and a brother, Frank H. Carpenter of Lynn. He was a communicant of Holy Name Church and a member of the Holy Name Society of that church.
On July 6, 1938, Albert W. Carpenter and Donald Sousa, members of the crew of the Sankaty Head, were swept overboard when a scallop rake, resting on the starboard rail, went overboard with a lurch of the vessel. Both sank below the surface within two minutes while other crew members tossed them lines and made frantic efforts to save them.
One of the crew members, Braz McDonald, was later lost in the sinking of the Red Start in 1954.