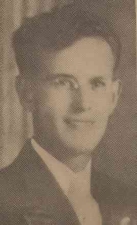 Click above for full-size
Donald Sousa
of New Bedford, MA
Born in New Bedford, MA
Position: Crew
Age: 25
Donald was a native of New Bedford, attended New Bedford grammar and High School, and was employed for a time in the circulation departments of The New Bedford Times and the Evening Standard before consolidation of the two newspapers six years ago. Before going to sea he worked polishing automobiles in the center of the city. It was his third trip out.
Besides his widow, Lydia (Gendron) M. Sousa, to whom he was married four years ago, he leaves a five-month old son Kenneth Donald Sousa, and five sisters, Marion and Dorothy, who are married and living in Topeka, Kansas, Mrs. Mildred Twist of Washington D.C., and Francis and Thelma Sousa, also his parents, Mr. and Mrs. John Sousa, of this city.
On July 6, 1938, Albert W. Carpenter and Donald Sousa, members of the crew of the Sankaty Head, were swept overboard when a scallop rake, resting on the starboard rail, went overboard with a lurch of the vessel. Both sank below the surface within two minutes while other crew members tossed them lines and made frantic efforts to save them.
One of the crew members, Braz McDonald, was later lost in the sinking of the Red Start in 1954.