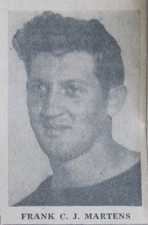 Click above for full-size
Francis J. L. Martens
of New Bedford, Massachusetts
Born in New Bedford, Massachusetts
Position: Crew
Age: 32
Francis Joseph Louis Martens, 32, was a Merchant Marine veteran. Mr. Martens, who was of Belgian ancestry, served nine years in that branch. Born in New Bedford, he was a lifelong resident of the city. He was educated in Fairhaven schools, attending also the high school in that town. Prior to entering the Merchant Marine, he was employed as a stone cutter and as an operator at the Revere Copper and Brass Company. He entered the Merchant Marine in 1938. He was a former member of the New Bedford Aerie of Eagles and maintained active interest in Merchant Marine programs.
His wife was the former Sophia Violet. They had one son, John, 11. Mr. Martens also had two brothers: Romeo, who was a student at Columbia University, and William, serving in the Army at Carlisle, Pennsylvania. He had two sisters, Winifred and Shirley, both of Florida.
The Theresa A., an aircraft rescue boat converted for use as a fishing vessel, left Fairhaven on September 9, 1950, and was last sighted fishing on Georges Bank. On September 12, the ship sent two radio messages: first a distress signal and then a message that the crew was abandoning ship. The weather was extremely bad, with heavy seas and winds of roughly 55 miles per hour. The Coast Guard launched a sea and air search, joined by several merchant vessels. The search continued until September 16, but no trace of the ship or its crew was found.
The only body recovered was that of Ernest Rich, who was found in October floating off Seal Island in Penobscot Bay.