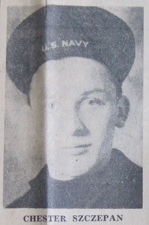 Click above for full-size
Chester Szczepan
of North End, New Bedford
Born in New Bedford
Age: 32
Chester Szczepan, 32, son of Martin C. and Mrs. Honora (Swirad) Szczepan, was born in New Bedford and had been a lifelong resident of the community. He was a veteran of World War II. The North End man was making his second trip as a fisherman and had indicated he wouldn't return to sea after this voyage. Educated in New Bedford schools, he attended New Bedford Vocational High School before entering military service. Following his discharge he was employed for a time at Dawson's Brewery. During World War II he served three years with the Navy and held the rating of seaman 1st class. He served in the Philippine Liberation, Asiatic-Pacific Theater and European Theater and was eligible to wear several awards. He was a member of the Polish-American Veterans of World War II, Crimson Arrows, and the Moniusczko Choir. He was also a member of the Polish National Catholic Church.
Mr. Szczepan was one of five children in his family. He had two brothers, Teddy and Mitchell, both of this city and two sisters, Mrs. Phyllis St. Pierre and Miss Adele Szczepan, both of New Bedford.
The Theresa A., an aircraft rescue boat converted for use as a fishing vessel, left Fairhaven on September 9, 1950, and was last sighted fishing on Georges Bank. On September 12, the ship sent two radio messages: first a distress signal and then a message that the crew was abandoning ship. The weather was extremely bad, with heavy seas and winds of roughly 55 miles per hour. The Coast Guard launched a sea and air search, joined by several merchant vessels. The search continued until September 16, but no trace of the ship or its crew was found.
The only body recovered was that of Ernest Rich, who was found in October floating off Seal Island in Penobscot Bay.