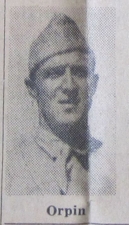 Click above for full-size
Herbert L. Orpin
of Nantucket, Massachusetts
Born in Nantucket, Massachusetts
Position: Crew
Age: 36
Herbert L. Orpin, 36, of Nantucket, was making his second trip aboard the Theresa A. although he had been engaged in scallop fishing for the last three or four years. He formerly was a member of the crew of the ill-fated William Landry but relinquished his site on that vessel shortly before it was lost with eight men in the April 8 storm.
Son of the late Herbert and Marietta (Dunham) Orpin, Mr. Orpin attended island schools and enlisted in the Army during World War II. Prior to his military service, he was employed as a caretaker of private property, and after his discharge from service he was employed as a plumber.
The Theresa A., an aircraft rescue boat converted for use as a fishing vessel, left Fairhaven on September 9, 1950, and was last sighted fishing on Georges Bank. On September 12, the ship sent two radio messages: first a distress signal and then a message that the crew was abandoning ship. The weather was extremely bad, with heavy seas and winds of roughly 55 miles per hour. The Coast Guard launched a sea and air search, joined by several merchant vessels. The search continued until September 16, but no trace of the ship or its crew was found.
The only body recovered was that of Ernest Rich, who was found in October floating off Seal Island in Penobscot Bay.